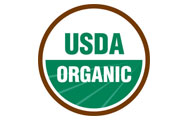 Organic Marketing
The Kentucky Department of Agriculture is accredited by the United States Department of Agriculture National Organic Program as a Certifying Agent for the scopes of Crops, Wild Crops, Livestock, and Handling Operations.
KDA currently certifies only entities located within the state of Kentucky.
Input approval
KDA recognizes the following material review organizations:

Pensylvania Certified Organic (List available to clients on request)
Operations certified by KDA may utilize inputs or products which are approved by the above listed material review organizations in accordance with any restrictions required by the regulations. Products not appearing on any of these lists should be reviewed by KDA prior to use, please use the Input Review Request Form located under Forms & Documents in the right column.
Additional Links